KonMari Kitchen Edition ft. Samsung
Celebrating the fact that the snow has melted and the temperature is finally in the double digits, I took my KonMari skills to the next level and completely organized our Samsung Fridge. I started with throwing out all our expired food [don't judge me – I bet you have an expired salad dressing somewhere in your fridge like the rest of the population LOL], buying some acrylic containers and because I'm so extra I labeled all the containers, drawers and side shelves with great quality vinyl that won't peel over time.
We've owned this refrigerator for just under five years and it's hands down one of my favourite appliances. The fridge itself is extremely spacious, the bright LED lights make it very easy to see what groceries you have and now for less than $150 I was able to completely organize the space and give my husband zero excuses for putting things back where they belong which IMO is priceless.
If you're in the market for acrylic containers, I found the best deal at Home Sense but I know you can find fridge + pantry organization bins at places like Solutions and The Container Store. The vinyl labels were designed and printed from Decal Robot.
The spring cleaning itch continued to both my Samsung Over-The-Range Microwave and Samsung Slide-In Gas Range. Both weren't nearly as "extra" as my refrigerator but I did purchase a microwave cover that was under $4 and keeps food from splattering all over the inside of the microwave. This may be hands down the best invention ever – just sayin'.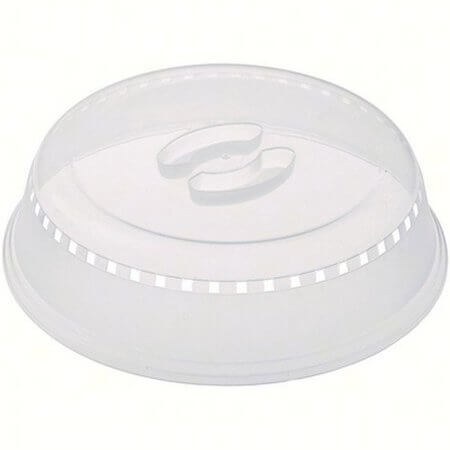 To freshen up our gas range and complete the KonMari spring cleaning in the kitchen I simply just put the stove burner grates into the oven, turned the self cleaning mode on for three hours and left the house to do some shopping. When I got home all I needed to do was quickly wipe down the oven + burner grates and it looked good as new. If only cleaning the rest of my house was as simple, y'know? Imagine being able to leave, set a timer for 3 hours and come home to a perfectly clean house and all your laundry folded? #amamacandreamright? Side note, the fact the grates are made from cast iron is one of my favourite things about this appliance because the quality is outstanding, I never have to worry about them peeling overtime and being able to throw them in the self-cleaning oven when they're dirty means less cleaning for me and that's what life is all about folks!
Have you started spring cleaning now that it's FINALLY spring? What areas of your home are you going to tackle in the upcoming months?! Let me know down below!
[Sponsored by Samsung Home Appliances but as always all opinions are my own]
---
---